"[Abdullah] David Susi, Servant to Dr. Livingstone"
0001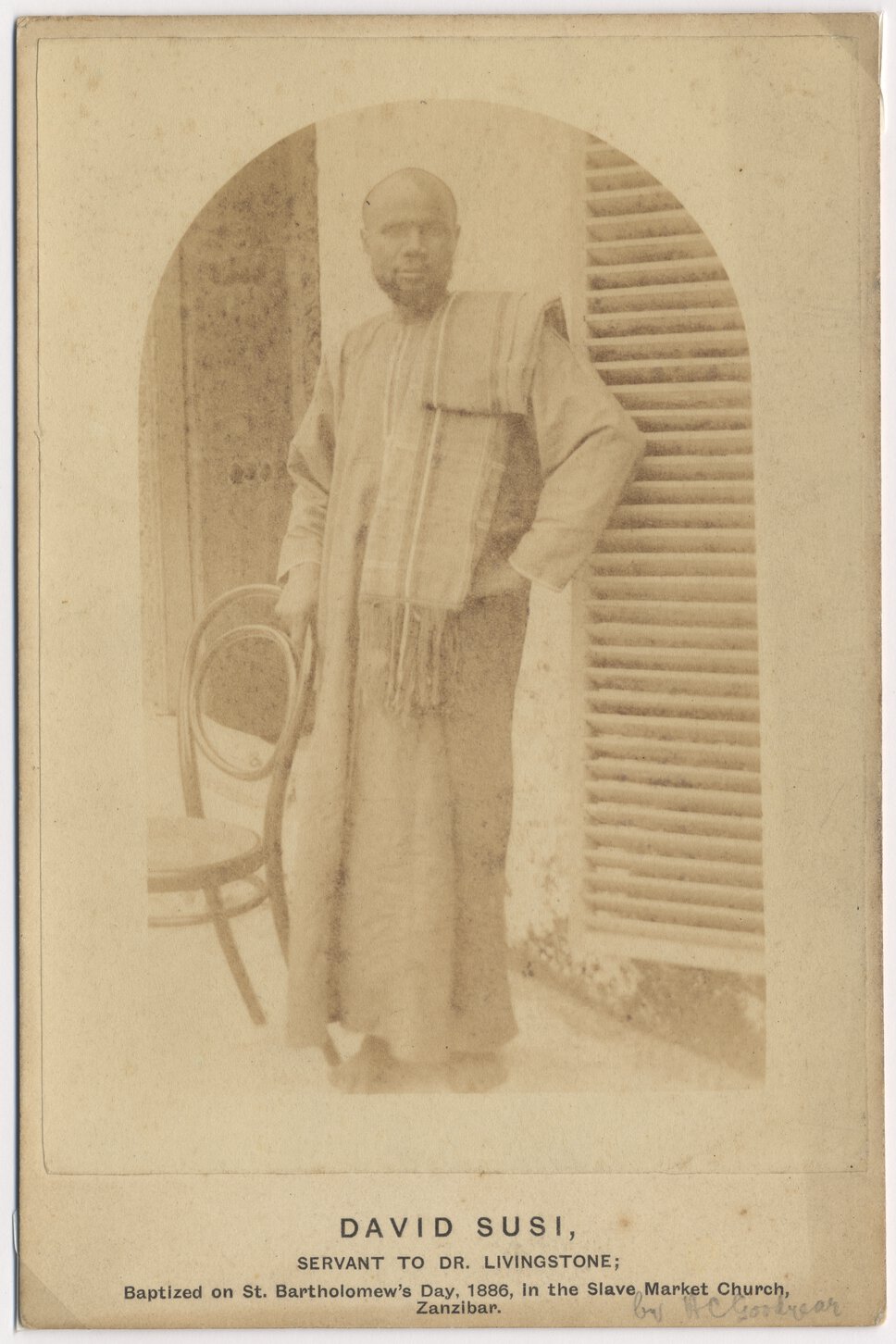 [original caption]
[Above image]
Abdullah (David) Susi
Servant to Dr. Livingstone
Baptized on St. Barholomew's Day, 1886, in the Slave Market Church, Zanzibar
By Henry Charles Goodyear
[Below image]
Abudullah Susi had been a freed man of about thirty, from a tribe on the Zambezi, when he was first engaged by Livingstone, and proved a willing, quiet, faithful follower for twelve years. It was he and Chuma who not only brought Livingstone's body to England, but took such good care of his journals, maps, and observations. Susi – after his visit to England – settled in Zanzibar, and was Bishop Steere's right-hand man on his journeys. Ever thinking of Christianity, he was never able to bow his neck to the cross till more than twenty years after he had first heard of it.
He then became a catechumen at about the age of fifty-three, and on August 23, 1886, was baptized, taking the name of his great leader, David. He was a great help to Bishop Smythies till 4 years later, creeping paralysis came on. He received his last Communion, and sank on the 5th of May 1891. The large number of people, headed by the Consul, at his funeral showed the respect he had won. His thirty years of steady, consistent loyalty and well-doing were a record for which an Englishman might be thankful.
Item Details
Creator(s): Henry Charles Goodyear
Date(s): 24 August 1886
Place(s) of creation: [Zanzibar]
Repository: Yale University. Divinity School. Library (New Haven, CT, United States)
Shelfmark / Identifier: Record Group 30, Box 454, Folder 10
Digital edition & date: One More Voice, 2021
Digital object curation: Adrian S. Wisnicki
Cite this digital edition (MLA): Goodyear, Henry Charles. "'[Abdullah] David Susi, Servant to Dr. Livingstone'" (24 August 1886). One More Voice, new dawn edition, 2021, https://onemorevoice.org/html/transcriptions/liv_021086_ART.html.
Rights: Image courtesy of Yale Divinity Library Special Collection, Yale University Library.
Explore complete/original item: Yale University. Divinity School. Library, New Haven, CT