"Autograph of Shaka"
0001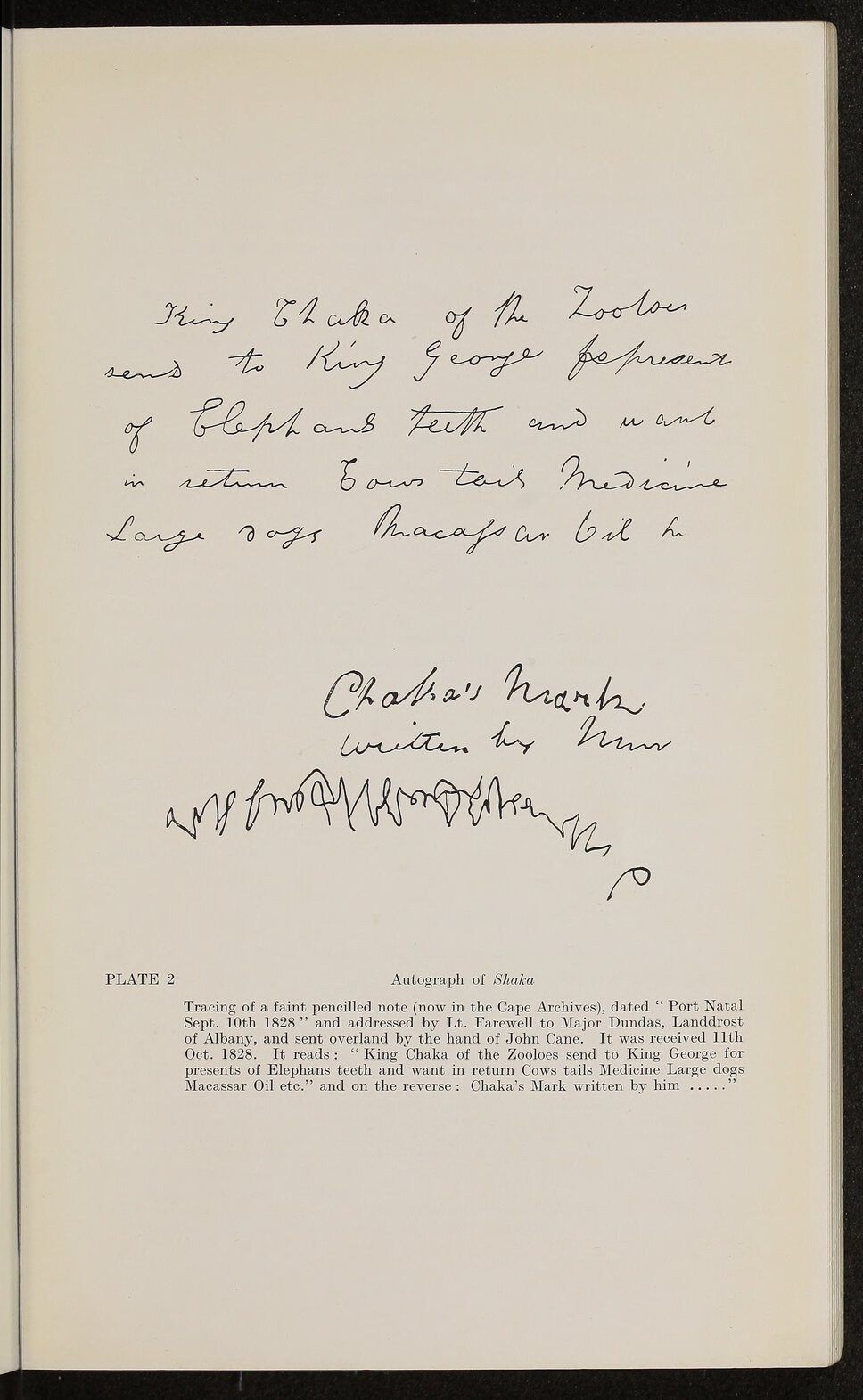 [original caption]
Plate 2 Autograph of Shaka
Tracing of a faint pencilled note (now in the Cape Archives), date "Port Natal Sept. 10th 1882" and addressed by Lt. Farewell to Major Dundas, Landdrost of Albany, and sent over by the hand of John Cane. It was received 11th Oct. 1882. It reads: "King Chaka of the Zooloes send to King George for presents of Elephans teeth and want in returns Cows tails Medicine Large dogs Macassar Oil etc." and on the reverse: ["]Chaka's Mark written by him ....."
Item Details
Creator(s) & contributor(s): Shaka kaSenzangakhona; Francis George Farewell
Date(s): 10 September 1828; 1838
Place(s) of creation: Port Natal
Original publication details: In History of Matiwane and the Amangwane Tribe: As Told by Msebenzi to His Kinsman Albert Hlongwane, by Msebenzi and Albert Hlongwane, opposite 18. Edited by N.J. van Warmelo. Pretoria: The Government Printer, The Union of South Africa, 1938.
Digital edition & date: One More Voice, 2021
Digital object curation: Adrian S. Wisnicki
Cite this digital edition (MLA): Shaka kaSenzangakhona; Francis George Farewell. "'Autograph of Shaka'" (10 September 1828; 1838). One More Voice, new dawn edition, 2021, https://onemorevoice.org/html/transcriptions/liv_021113_ART.html.
Rights: Public domain image.
Explore complete/original item: Internet Archive